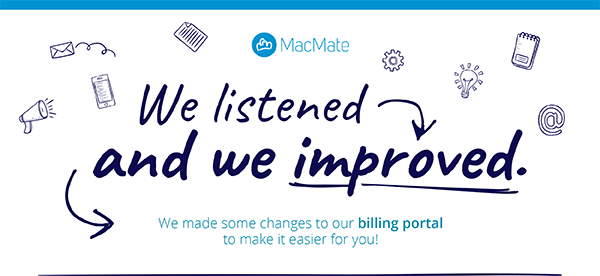 Better overview on first screen

 
 

 
 

Based on your feedback, we have redesigned the landing page to give you a broad overview of all of your services, support tickets and billing. Right in the centre you will see a large search box that links directly to all of our support and help articles.

 
 
 
 

 

Improvement on the product controls




Each service is now summarised within its own panel with access to some controls and options like - changing passwords, checking call usage etc - more of these to follow.

 
 
 
 

Notifications

 
 
 
 

Any billing, network or important service notifications will be displayed within your new notifications box - this will pulse when there is something unread.

 
 
 
 

 

Improved multiple contacts




Many of you wanted multiple contacts in order to specify who gets billing queries and who gets technical alerts - we have made this much easier and more integrated. Add and organise your multiple contacts today and fine-grain each users permissions to suit your business.

 
 
 
 
 

Further improvements to follow!

 
 
 
 

UK Call: 01208 220010 | USA Call: 347-974-7295 | Email Support: info@macmate.net




MacMate is part of the Cor Group.
UK Westcountry House, Victoria Square, Bodmin, Cornwall PL31 1EB.

USA 16th Floor, 100 Park Avenue, New York City, New York, 10017 USA




Copyright © 2016 MacMate, All rights reserved.

 
 
Onsdag, Mars 30, 2016